SOMAREX


SOMAREX is a chemical to be added into coating colors for improving water retention and visco-elasticity, and as a result improves coated paper properties and coating operation.
As it is an aqueous emulsion, handling characteristics are good. Various product types suited for each application are available.
---
Improvement of Water Retention
Control of Binder Migration
Solves troubles in printing to be caused by binder migration. Settles calendering stains.

Improvement of Bulkiness of Coated Layers
Improves coated paper properties (brightness/smoothness). Improves gravure fitness.

Controls excessive dewatering into base paper
Decreases web break during the coating.
Reduces streaks/scratches.
Viscosity Control
Replaces CMC
Gives same effects with less addition.
Can be added directly without any dissolving processes.
Stable coated volume on white boards
Keeps stable coating profiles with free viscosity adjustment.
Improvement of Rheology
Control of Bleeding
Improves visco-elasticity of coating colors, and controls occurrence of bleeding.

Influence of Water Rheology
Restrains penetration of coating color water into base paper, and improves coating operation.
Keeps the coating layer under the blade wet.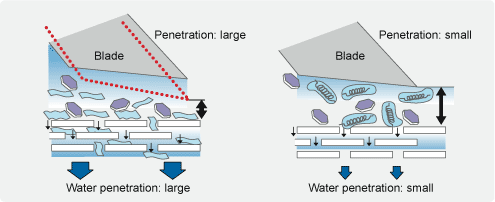 Directions for Use
Add 0.05 to 0.3 parts of active ingredients by solid to the coating color.
To be added during agitation at the final stage of the coating color production process, and then dispersed evenly.
Produces effects under alkaline conditions with NH

4

OH, NaOH, etc.
As it produces effects under alkaline conditions, final pH to be adjusted to over 8.5.
Depending on the prescription, it can improve water retention by adding during production.
* For applications other than the above, it is suggested that you consult us.
Precautions in Handling
During the use, please wear protective gear, and operate in well ventilated areas.
As it freezes below 0 °C, please take enough care in storing.
In case of entry in eye, please flush immediately with plenty of water and consult a doctor.
In case of contact on skin, please wash out with soap and water.
In case of swallowing, please immediately consult a doctor.
When it is spilled out, please get the spill coagulated with salts (ex. aluminum sulfate, sodium chloride, etc.), and then incinerate.
Please read MSDS at the use of product.
Product Line-Up and Features
| Product | Type | Features |
| --- | --- | --- |
| SOMAREX270K | Absorption and Association Type | Produce high water retention while restraining a B-type viscosity at the low level. |
| SOMAREX300 | Floating Type | Produce water retention while restraining color elasticity. |
| SOMAREX320 | Association Type | Shows strong association and have high viscosity. |
| SOMAREX530 | Non-alkali High-viscosity Type | Low B-type viscosity and high HS-viscosity. |
For Contact
---