SOMABRIGHT


SOMABRIGHT is an environmentally friendly phosphorescent film witch does not contain any environmentally hazardous substance like vinyl chloride, radioactive substances, etc.
---
Features
As phosphorescent material is contained in plenty, the level of brightness is high in thin thickness.
Various functions like adhesion can be added on request.
As phosphorescent material is taken with water resistance treatment, the product can be used in water.
Top surface can be processed with various function layers like an inkjet receiving layer.
Composition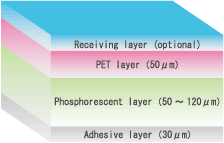 Example

For Contact
---