Research and Development Activities
Research and Development Activities

Under the situation where social requirements and needs from customers are getting diversified and sophisticated, and changing speedily as well, we assume it the basics of our research and development to demonstrate our originality and contribute to society by focusing on the industrial field that is expected to grow in future and give solution to the problems that our customers are confronted with by utilizing our strongest basic technology.
1. Purposes and fields of research and development activities.
(1) Further reinforcement of basic technologies and expanding the range of it.
Creation of new function and accumulation of know-how based on formulation.
Thin and even coating technology and pertinent production technology.
Lamination technology.
Clean technologies
Elemental technology and applied production technology of clean coating and precision filtration.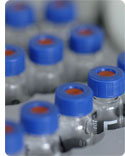 (2) Aim at resource saving, energy saving and environmentally friendly technology.
Technologies for minute application (particularly, apply these technologies to electronic appliance parts and precision instrument parts)
Powder materials application technology that does not use solvent (application to thin powder coating)
(3) Activities for precisely grasping customer needs and suggesting solution of problems.
A role as a technology partner.
Problem solution by application of original products or joint development.
Attach importance to / have respect for intellectual property rights.
Have due consideration for non-disclosures of secret information, etc
2. Features of our base technologies
(1) Materials design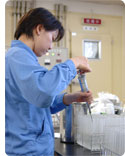 - Molecule design and formulation technology -
Somar performs high polymer designing from the basics based on synthesizing technology cultivated for many years, originally develops materials with high added value, and then applies them to high functional film products, insulation coating materials and paper making chemicals. The high polymer design technologies mainly focused on acrylic and epoxy resins are used for the development of many products. Furthermore, its formulation technologies that are based on the analysis and application of the interactions caused by high polymer and other materials have offered a series of products that could be differentiated from others by the know-how originally built.
(2) Product Design
With substantial evaluation technology, abundant analytical instruments and analysis technology, we have performed optimal product designing that would meet the requirements from customers, and have gained their high confidence. Adopting molecular design technology to product development, and also conducting design development near customers for their easy access that could be applied to application technology, we could establish the system with that our customers can use the optimum product in optimum method. These technologies together with research and development activities made for a long time are highly evaluated by our customers.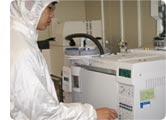 - Adhesive / glue technology -
Analysis of materials is an essential element for the development of an adhesive and glue. Somar places great importance on such basic technologies as analysis of materials, and always develops materials based on basic analysis. Surface analysis is always an important subject of our research for adhesive / glue, and it is utilized for many product developments.
- Coating technology -
Film coating is one of the core technologies of Somar that has been cultivated for many years. We offer high value-added products made by coating / application technologies at high-level clean facilities. We offer original products by combining coating technology with adhesive / glue technology.
- Chemicals technology -
Chemicals for paper making are valued highly for their original high polymer design. In the development of pulp retention aids, industrial bactericides and sizing agents, and also in the research and development that conform to the requirements for reducing environmentally hazardous substances, we always introduce new products and are greatly contributing for the development of paper making technology.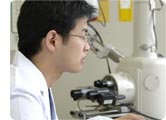 (3) System / Process Design
System / process design for further enhancing product application is considered to be an important element to add value to products. Being led by our Production Engineering Department, we push forward to build an original system and promote process development to offer the application technology that matches the needs of customers. These developments ranging from electronic / electric circuit design to machinery design and system introduction are performed on our own to research and develop the system that is most suitable for our products. We always develop the process design of production facility aiming at optimization of productivity improvement being led by our Production Engineering Department.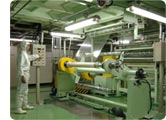 (4) Aiming at Next Generation Product Development
To meet the requirements for materials, we always offer new proposals. Developing furthermore high polymer design, coating technology, adhesive / glue technology and systematization technology that are core technologies of Somar, and also aiming at "Research / technology development that can always afford to be suggested to customers", we would like to invest our business resources to research and development to meet future environmental requirements and the needs for high value-added production.
3. Recent Achievements and Examples of Application Fields.
(1) High-Functional Film Products
Various adhesive films required in the production process of flexible circuit boards,
"SOMATAC"(easy to remove without adhesive residues)
Optical films for digital cameras, "SOMABLACK"
(high light-shading, low reflection and static free)
(2) Fine particle coating powder, "Epiform F" (thin coating for electrical insulation of micro-motors)
(3) Sealing resins for high density surface mounting, "SOMATECT" (for surface mounting on the circuit boards of various electronic appliances)
(4) New retention aids for paper making process, "REALIZER" and its application system (Axisz System)
---