Business Activities

There are two sides to SOMAR;
one is trading company and the other is manufacturing company.
The world is getting complicated and diversified and, in the business environment as well, the problems each business is confronted with are getting complicated and diversified.
Fortunately, Somar has grown as a business that has functions of both "trading" and "manufacturing", and has been bracing itself to utilize both functions effectively and offer pertinent proposals timely to solve those complicated and diversified problems.
In future as well, Somar is determined to solve problems such as these along with customers as a strong partner, and raise the significance of its existence.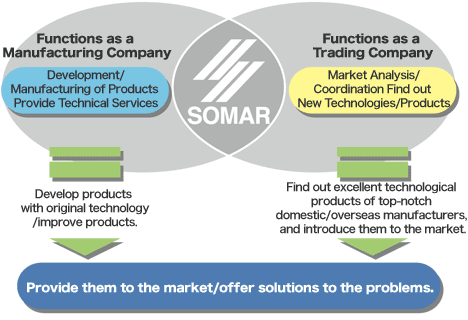 Somar's base technology; formulation.
As the lives of people improve and advance, qualities and functions sought from people also become high and diversified. In addition, due consideration to global environment is also an essential element in recent days.
On the basis of molecular design technology related to functional creation of chemical materials that have been long cultivated and to satisfy, as well, high degree and diversified quality / functional needs, SOMAR has been developing new products that are needed by markets with refined "formulation" technologies attained through its combined chemical materials.
We would like to continually refine these "formulation" technologies, and shoulder a part of responsibility for quality development to contribute to society.

---